WHLReview
145 Foster Street
Littleton MA 01460
The Wilderness House Literary Review is a publication devoted to excellence in literature and the arts.
The WHLReview is published online quarterly with a best of annual print edition.
Deadlines are as follows
March 1 – Spring
June 1 – Summer
September 1 – Autumn
December 1 – Winter
The annual edition will be published in October.
To contact an editor simply click on a name below:
Editor & Publisher
Poetry Editor
Fiction Editor
Nonfiction Editor
Book Reviews Editor
Arts Editor
Poet in Residence
The Wilderness House Literary Review
is the result of the cooperation of the
and the
Wilderness House Literary Retreat.
Submissions
All submissions must be in electronic form. Our preference is an MS Word file sent as an attachment. We don't pay so you retain all copyrights.
Poetry may be submitted in any length.
Short fiction may be submitted in three formats:
1. very short stories less than 500 words in length
2. short stories less than 1000 words in length
3. Short stories that don't fit the above should be less than 5000 words.
We also accept longer forms of fiction occasionally.
Non-Fiction is just that so lets see some interesting footnotes.
Book Reviews should be positive unless the author is a well-known blowhard. Our mission is to encourage literature not discourage it.
Non-fiction should be short, (a lot) less than 5000 words.
Any form of art may be submitted with the constraint that it must be something that can be published in 2 dimensions. It's hard to publish sculpture but illustrations together with some intelligent prose count.
Published works are welcome with proper attribution.
Please submit all works electronically.
<![if !supportEmptyParas]> <![endif]>
<![if !supportEmptyParas]> <![endif]>
Welcome to the fourteenth issue (Volume4, no2) of the Wilderness House Literary Review. WHLR is a result of the collaboration between a group of poets and writers who call themselves the Bagel Bards (who have just published their latest anthology) and the Wilderness House Literary Retreat. All of the stories, articles, poems and examples of art have been presented as PDF files, Portable Document Format. This is a format that allows for a much cleaner presentation than would otherwise be available on the web. If you don't have an Adobe Reader (used to read a PDF file) on your computer you can download one from the Adobe website. The files are large and we hope you will be patient when downloading but we think the beauty of the words deserves a beautiful presentation. Find us on Facebook or join our mailing list HERE.
<![if !supportEmptyParas]> <![endif]>
Finally, the copyrights are owned by their respective authors whose opinions are theirs alone and do not reflect the opinions of our sponsors or partners. Let us know what you think in our new Letters to the Editor. Enough housekeeping. Expect a printed version of Volume 3 this fall.
Table of Contents
Opine

They say it's now the summer season. The almanacs are all in agreement, we are past the summer solstice yet spring has barely arrived. There was a killing frost in mid May not too many miles west of here. We dared not plant our garden until Memorial Day, the last weekend in May and unofficially the start of summer. It has been gloomy and rainy with daytime high temperatures (its 57 degrees Fahrenheit, 14 Celsius) that would normally pass for a chilly night this time of the year. Yet for all the gloom it's become very lush. The heat of summer has not parched the earth and our local aquifer is filling up. In years past the level in the towns wells have slowly fallen while demand has slowly risen.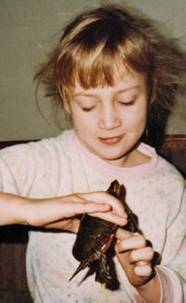 Not all things survived the winter. That's as it should be. Skippy Creamy Crunchy Honey Roasted Peanut Butter, a ~22 year old western painted turtle, the pride of this editors youngest daughter passed on to that pond in the sky and was given a proper burial, cast off from the banks of the Mystic River to go … whatever it is that good turtles go when they pass on. That same daughter just turned 25, an unmistakable signal that she is now an adult. Skippy was her most constant companion in childhood having survived one dog and several dozen goldfish. Kitty's artistic homage to Skippy is shown in her 2006, 5 foot by 2 foot stained glass window.
Search the house
Art
Anyone with artistic inclinations has fantasies of the bohemian lifestyle: Paris 1890, Paris 1920, Paris 1950, and Greenwich Village 1955 …. Our new Arts Editor Bridget Galway has lived that lifestyle. Bridget grew up first in Greenwich Village, then moved to Provincetown with her mother then on again to Ibiza Spain with her father where Tennessee Williams and Salvador Dali were regular fixtures. She moved back to Provincetown to care for her dying mother in the mid 1990's. She finally moved to Somerville Massachusetts where she paints and writes poetry today.
Our art show is a collection of her portraits. Be warned, the file is massive, over 3 mega-bytes, but we think the results are stunning: The portraits of Bridget Galway.
Essays
Our non-fiction corner has grown. We start off with an experiment in online publishing. If you look to the right (and up) you will find the cover of a book titled "Seven Days in Fiji," by yours truly. It's the story of his trip to Fiji. He hopes that you'll buy a paperback copy, of course, but absent throngs of rich readers dying to part with the remnants of their retirement funds we have decided to publish it as an "ebook." Seven Days in Fiji Let us know what you think about it.
This is only the beginning. We have so many great stories it's hard to decide what should go first so we've decided to list them in the same strange order that we list poetry, alphabetically by first name.
Anne Ipsen - Plowing Rocks
Barbara Bialick - Regarding Green
Don MacLaren - From the Lone Star State to the Golden Gate
Elizabeth Kirschner - THE RED LINE
Eric D. Lehman - Heart of the Giant
Jane Karakula - Not Yet
Joe Lombo - Facing Off
Mary Rice - A Wonderful Window
Shawnee Shahroody Spitler - Ansel's Wilderness
Fiction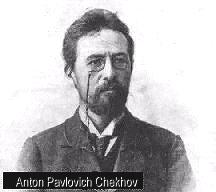 Our fiction editor loves Anton Chekhov and despairs the notion that there are no latter day Chekhovs submitting works for his consideration. This is not to say that the work he receives isn't excellent … it's just not Chekhov. To that end WHLReview announces a new prize for fiction to be called "the Chekhov Prize." A google search reveals several other Chekhov prizes with cash. Alas we're not offering cash. We will look for a bearded bobble-head doll. In the mean time we have T-shirts with the Chekhov Prize logo available. Just click on Chekhov's head.
We have been publishing stories from Susan Tepper's "Deer collection" for the last few issues. It gives us great pleasure to announce that her book, Deer and other stories, will be published by our new imprint Wilderness House Press. We have other books in the works too.
For your reading pleasure we offer:

Alexandra Isacson - Matchmaker's Ashes
Andrea Jackson - Canary
Carolyn Kegel - About Heather
Casey Pycior - Just a Gift Between Friends
Judith Groudine Finkel - Lost Again
Julie Ann Shapiro - Ziba
Lori Uhland - Confessions of a Confused Eternal Optimist Looking for Her Misplaced Mojo
Michael Conn - Maiden Flight
Mikael Persson - The Duel
Paul Steven Stone - How To Train A Rock
Poetry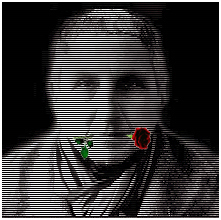 Our poetry editor, not wanting to be outdone by our fiction editor is pleased to announce the Gertrude Stein "rose" prize for creativity in poetry. Anyone published in Volume 3 (and beyond) is eligible. We don't have any idea what the prize will consist of - a t-shirt for sure. Perhaps we can find a Plaster of Paris bust of Julius Caesar, put a rose in its mouth and decorate it to look like Gertrude Stein. In the mean time we have T-shirts with the our rose prize logo available. Just click on Gerturde's head.
We have a remarkable lineup of poets, enjoy:
Alexandra Isacson
Carol LynnGrellas
C. N. Bean
Chris Crittenden
Ed Casey
Fredrick Zydek
Gale Acuff
Greg Billingham
Jessica Dutschmann
Jessica Harman
J. M. Wilcox (translations from Japanese and Greek)
John Grey
John Sibley Williams
Joseph Reich
Justin J. Murphy
Katherine Hauswirth
Laura Austin Wiley
Lolita Paiewonsky
Lynn Lifshin
Michael Jerry Tupa
Rebecca Schumejda
Robert K. Johnson
Sankar Roy
Susan Nisenbaum Becker
Tomas O'Leary
Zvi A Sesling

Reviews
Hugh Fox - Evening Watch By Cameron Mount
Irene Koronas - The Green Behind Every Shape by James Hatch
Irene Koronas reviews 3 new books from Propaganda Press
Luke Salisbury - The Collected Poetry of Hugh Fox 1966 - 2007 (yes that Hugh Fox)
Zvi A. Sesling - At the Threshold of ALCHEMY by John Amen

Come back often. We post up to ten new reviews every week.

<![endif]>
As we said when we started this is a joint production of Wilderness House Literary Retreat and the "bagel bards". The "Bagel Bards" have just published their fourth anthology. You may purchase them here:
WHLReview is brought to you by:

An exciting travelog:
Louisa Solano: The Grolier Poetry Bookshop
Outpost - A Collection of Poems
Manufacturing America, Poems from the Factory Floor
Eleven Ways to Change the World
Eden Waters Press HOME Anthology
The Man in the Booth in the Midtown Tunnel
They're Dropping Bombs Not Ham Sandwiches