WHLReview
145 Foster Street
Littleton MA 01460
The Wilderness House Literary Review is a publication devoted to excellence in literature and the arts.
The WHLReview is published online quarterly with a best of annual print edition.
Deadlines are as follows
March 1 – Spring
June 1 – Summer
September 1 – Autumn
December 1 – Winter
The annual edition will be published in October.
Editor & Publisher
Poetry Editor
Fiction Editor
Nonfiction Editor
Book Reviews Editor
Arts Editor
Poet in Residence
The Wilderness House Literary Review
is the result of the cooperation of the
and the
Wilderness House Literary Retreat.
Submissions
All submissions must be in electronic form. Our preference is an MS Word file sent as an attachment. We don't pay so you retain all copyrights.
Poetry may be submitted in any length.
Short fiction may be submitted in three formats:
1. very short stories less than 500 words in length
2. short stories less than 1000 words in length
3. Short stories that don't fit the above should be less than 5000 words.
We also accept longer forms of fiction ocassionally.
Non-Fiction is just that so lets see some interesting footnotes.
Book Reviews should be positive unless the author is a well-known blowhard. Our mission is to encourage literature not discourage it.
Non-fiction should be short, (a lot) less than 5000 words.
Any form of art may be submitted with the constraint that it must be something that can be published in 2 dimensions. It's hard to publish sculpture but illustrations together with some intelligent prose count.
Published works are welcome with proper attribution.
Please submit all works electronically.
<![if !supportEmptyParas]> <![endif]>
<![if !supportEmptyParas]> <![endif]>
Welcome to the eleventh issue (Volume 3, no.4) of the Wilderness House Literary Review. WHLR is a result of the collaboration between a group of poets and writers who call themselves the Bagel Bards (who have just published their latest anthology) and the Wilderness House Literary Retreat. All of the stories, articles, poems and examples of art have been presented as PDF files, Portable Document Format. This is a format that allows for a much cleaner presentation than would otherwise be available on the web. If you don't have an Adobe Reader (used to read a PDF file) on your computer you can download one from the Adobe website. The files are large and we hope you will be patient when downloading but we think the beauty of the words deserves a beautiful presentation.
<![if !supportEmptyParas]> <![endif]>
Finally, the copyrights are owned by their respective authors whose opinions are theirs alone and do not reflect the opinions of our sponsors or partners. Let us know what you think in our new Letters to the Editor. Enough housekeeping.
We promised a printed version of Volume 1.
Volume 2 is available HERE. Check the table of contents for your favorite author. We have also nominated some of our authors for the Pushcart Prize. <![if !supportEmptyParas]>
Autumn's last breath was a cold and icy one. Littleton was on the edge of a great ice storm that left us without power for a day and a half. Others less fortunate were without power for weeks. On midwinter's eve, that darkest of times, a wood nymph in the form of a pregnant doe visits our yard, smiles on us and establishes a new deer run passing the garden gate. As she passes she nods towards a displeased Jill, our new scarecrow who hopes to effectively patrol the garden come spring.
We have to remind ourselves that while winter is the season of death we are already into the season of rebirth. The Sun's power no longer wanes but grows stronger and burns longer with each passing day. Winter will take its toll and we mourn the passing of a Bagel Bard, Mike Amado. Mike a Bagel Bard "word catcher" died on January 2. Mike loved the spoken word and because he was part Native American he became known as the "Spoken Warrior."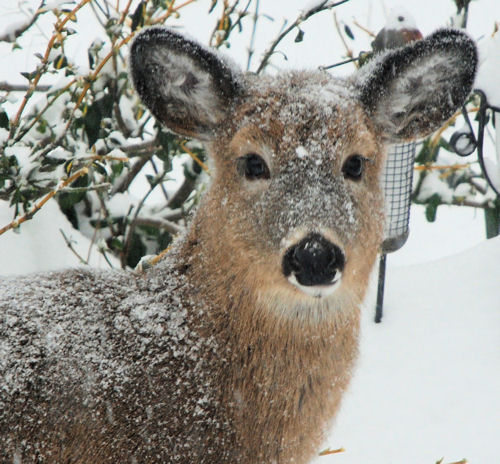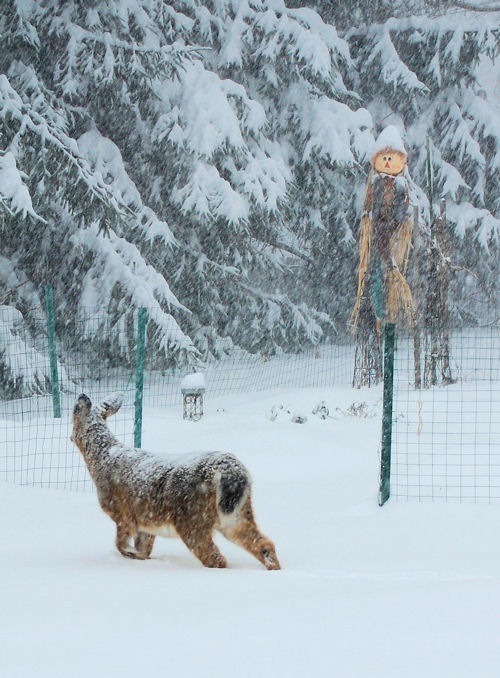 One of Mike's last readings was recorded at Out of the Blue Gallery and posted on You-Tube. It can be seen here. We nominated him for a Pushcart Prize. We hope he wins.
We also had the pleasure of designing Mike's last book for Ibbetson Street Press: Rebuilding the Pyramids. He was 34. We will miss him.
Art
We were sent this by Christopher J. Lessick
Essays
We start this issue with an interesting story of crossing to Nantucket:
The Crossing - Jane Karakula
Lisa Beatman's dog is
Barking for Obama - Lisa Beatman
Middle aged and perfecting the
The Practice of Dating - Mignon Ariel King
Lyn Lifshin is not just a poet, oh no, her fingers cannot resist the feel of the keyboard and we imagine Lyn typing essays with one hand, writing poems long hand with the other while chating on a speaker phone. We've already given her our first "rose prize" for poetry and we may have to invent one for prose as well. She sent us 2 essays (and 3 poems):
APPLETREE LANE
NISKAYUNA HOUSES AND OTHER HOMES: BELONGING AND LETTING GO
"One day, she discovered pornography....".
ENTER /CLICK - Elaine Rosenberg Miller
Finally Steve Glines tells us what he thinks of the auto bailout in
Bailout - Steve Glines
Fiction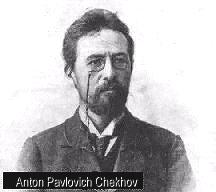 Our fiction editor loves Anton Chekhov and despairs the notion that there are no latter day Chekhovs submitting works for his consideration. This is not to say that the work he receives isn't excellent … it's just not Chekhov. To that end WHLReview announces a new prize for fiction to be called "the Chekhov Prize." A google search reveals several other Chekhov prizes with cash. Alas we're not offering cash. We will look for a bearded bobble-head doll. In the mean time we have T-shirts with the Chekhov Prize logo available. Just click on Chekhov's head.
Our second prizewinner is Jessica Keener whose short story "Solo" was arguably the best piece of short fiction we published in Volume 3.
To John Hanson Mitchell fans "Ceremonial Time: Fifteen Thousand Years on One Square Mile" is his definitive book. He covers the period from the receding of the glaciers to the historical epoch where "scratch flat" becomes part of our familiar landscape. Mitchell sticks to the facts when he writes about the colonial and native characters that inhabit the last chapters in "Ceremonial Time," but the characters got under his skin and the only way to write about who they really were in a novel, his first. By the way, John has a new book out about the natural history of Boston , "The Paradise of All These Parts," Beacon Press, Boston 2008. John's vast knowledge of what used to be called "Natural Philosophy" and his gift for anthropomorphic descriptions of inanimate objects brings the City of Boston to life. The reader can almost feel the movements of the tectonic plates right under his feet.
Indian Summer by John Hanson Mitchell
Chapter 1- Indian Summer
Chapter 2 - Totem
Chapter 3 - Divinity
For your reading pleasure we have:
That Dog - Rebekah L. Cowell
Street Performer - Vinoad Senguttuvan
The Hours Happened - Jéanpaul Ferro
HELP - Susan Tepper
Addressing The Question Of What Happens To Snow That Never Falls - Paul Stone
Poetry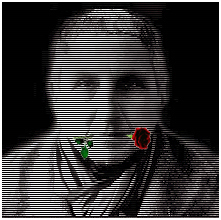 Our poetry editor, not wanting to be outdone by our fiction editor is pleased to announce the Gertrude Stein "rose" prize for creativity in poetry. Anyone published in Volume 3 (and beyond) is eligible. We don't have any idea what the prize will consist of - a t-shirt for sure. Perhaps we can find a Plaster of Paris bust of Julius Caesar, put a rose in its mouth and decorate it to look like Gertrude Stein. In the mean time we have T-shirts with the our rose prize logo available. Just click on Gerturde's head.
Our first winner of our Gerturde Stein "rose" prize for creativity in poetry goes to one of the most prolific poets of her generation, Lyn Lifshin. When we informed Lyn that she had won she immediately sent these "rose poems." In case you want to learn more about Lyn our good friend Hugh Fox wrote a book about her: Lyn Lifshin: A Critical Study When we told Hugh about our award he sent us this. We expect a photo with Lyn wearing our "rose prize" T-Shirt in the Spring issue. The poem that impressed our editor the most was Writing Class, Syracuse Winter (It's the second poem).
We have a remarkable lineup of poets, enjoy:
Barbara Bialick
Christian Ward
Coleen T. Houlihan
Dianne Robitaille
Eric S. Adamson
John Hildebidle
Joseph Powel
Julia Carlson
Karen Kalsey
Lucy Holstedt
Marina Gipps
Matthew Zingg
Mignon Ariel King
Nikolle Doolin
Richard Kostelanetz
Robbie Gamble
Robert H. Demaree
Robert K. Johnson
Rodrigo V. DelaPena
Stephanie Anderson
Todd Heldt
Zoe Turtle
Reviews
Container Gardening. Ellen Steinbaum.
MEN IN SUITS. Alan Catlin.
NUNCA MAIS: NEVER AGAIN PORTUGESE / ENGLISH POEMS. Hugh Fox
<![endif]>
As we said when we started this is a joint production of Wilderness House Literary Retreat and the "bagel bards". The "Bagel Bards" have just published their third anthology. You may purchase them here:
WHLReview is brought to you by:

A new and exciting travelog:
Louisa Solano: The Grolier Poetry Bookshop
Outpost - A Collection of Poems
Manufacturing America, Poems from the Factory Floor
Eleven Ways to Change the World
Eden Waters Press HOME Anthology
The Man in the Booth in the Midtown Tunnel
They're Dropping Bombs Not Ham Sandwiches