WHLReview
145 Foster Street
Littleton MA 01460
The Wilderness House Literary Review is a publication devoted to excellence in literature and the arts.
The WHLReview is published online quarterly with a best of annual print edition.
Deadlines are as follows
March 1 – Spring
June 1 – Summer
September 1 – Autumn
December 1 – Winter
The annual edition will be published in October.
To contact an editor simply click on a name below:
Editor & Publisher
Poetry Editor
Fiction Editor
Nonfiction Editor
Book Reviews Editor
Arts Editor
Poet in Residence
The Wilderness House Literary Review
is the result of the cooperation of the
and the
Wilderness House Literary Retreat.
Submissions
All submissions must be in electronic form. Our preference is an MS Word file sent as an attachment. We don't pay so you retain all copyrights.
Poetry may be submitted in any length.
Short fiction may be submitted in three formats:
1. very short stories less than 500 words in length
2. short stories less than 1000 words in length
3. Short stories that don't fit the above should be less than 5000 words.
We also accept longer forms of fiction ocassionally.
Non-Fiction is just that so lets see some interesting footnotes.
Book Reviews should be positive unless the author is a well-known blowhard. Our mission is to encourage literature not discourage it.
Non-fiction should be short, (a lot) less than 5000 words.
Any form of art may be submitted with the constraint that it must be something that can be published in 2 dimensions. It's hard to publish sculpture but illustrations together with some intelligent prose count.
Published works are welcome with proper attribution.
Please submit all works electronically.
<![if !supportEmptyParas]> <![endif]>
<![if !supportEmptyParas]> <![endif]>
Welcome to the thirteenth issue (Volume4, no1) of the Wilderness House Literary Review. WHLR is a result of the collaboration between a group of poets and writers who call themselves the Bagel Bards (who have just published their latest anthology) and the Wilderness House Literary Retreat. All of the stories, articles, poems and examples of art have been presented as PDF files, Portable Document Format. This is a format that allows for a much cleaner presentation than would otherwise be available on the web. If you don't have an Adobe Reader (used to read a PDF file) on your computer you can download one from the Adobe website. The files are large and we hope you will be patient when downloading but we think the beauty of the words deserves a beautiful presentation.
<![if !supportEmptyParas]> <![endif]>
Finally, the copyrights are owned by their respective authors whose opinions are theirs alone and do not reflect the opinions of our sponsors or partners. Let us know what you think in our new Letters to the Editor. Enough housekeeping.
We promised a printed version of Volume 1. Volume 2 is available HERE. Check the table of contents for your favorite author. We have also nominated some of our authors for the Pushcart Prize. <![if !supportEmptyParas]>
Table of Contents
Opine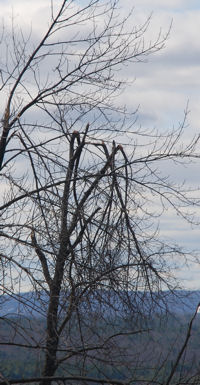 It is spring and smoke from a thousand bonfires fills the Merrimac valley with an aromatic haze. Neighbors greet each other to chop and burn wood ripped from the forest during the great ice storm. Split wood will be cheep next winter. A gopher makes his presence known, again, taunting those that think they own the land and shed. What do they know? Nature holds title here all else is an illusion. Our editor offers up this poem as an offering to the deity responsible for hope, renewal and rebirth:
Last patch of ice in the spring - Steve Glines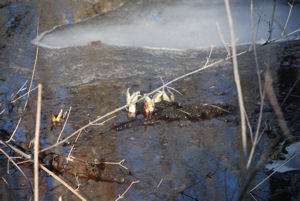 Art
This issue we have clips from a movie or at least clips from a movie in the making:
Ridiculous and Sublime: Life in an Inner-City Franciscan Monastery
By Maureen Cotton
Essays
For some fishing is a reason to comume with nature, for others it's a reason to party for that select few it's a passion, a way of life. It's like that for David Joy:
Breaking in the Cork By David Joy
The early hisrory of Rock & Roll can be found in
I Was A Teenage Fender‐Maker by Laurence O. McKinney

Lawrence Kessenich has a problem in
My Problem with "No Problem"
Finally, Cathleen Twardzik sent us this essay
Dan Tobin Delves into his Poetry
Fiction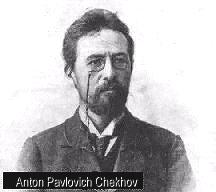 Our fiction editor loves Anton Chekhov and despairs the notion that there are no latter day Chekhovs submitting works for his consideration. This is not to say that the work he receives isn't excellent … it's just not Chekhov. To that end WHLReview announces a new prize for fiction to be called "the Chekhov Prize." A google search reveals several other Chekhov prizes with cash. Alas we're not offering cash. We will look for a bearded bobble-head doll. In the mean time we have T-shirts with the Chekhov Prize logo available. Just click on Chekhov's head.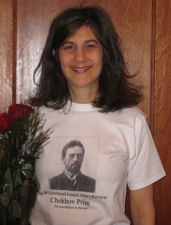 Our prizewinner is Jessica Keener whose short story "Solo" was arguably the best piece of short fiction we published in Volume 3.
Susan Tepper has been sending us stories from her "Deer collection." She has enough of them to fill a book so we will be publishing them in book form this summer. Look for an announcement here. In the mean time here is another story from the collection called Blue Skies
For your further reading pleasure we have:
Alexandra Isacson - Paris Porn
Christine Stark has two stories
- Click click
- Catherine
David Morris Parson - Foley
David Woodward - WEEDS ARE WILDFLOWERS
Dinh Vong - Threads
Irene Koronas - Emily and Sue
J. J. Steinfeld - THE GREAT WRITER'S FINAL WISH
Rebecca Brooks Carroll - My Life As A Nose
Sara Oliver Gordus - Why Have the Jellyfish Lived So Long?
Stephanie Manuzak - The Wake
Susan Solomon - Facts About Frogs

Poetry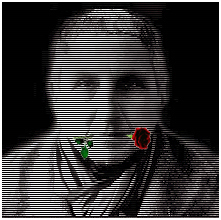 Our poetry editor, not wanting to be outdone by our fiction editor is pleased to announce the Gertrude Stein "rose" prize for creativity in poetry. Anyone published in Volume 3 (and beyond) is eligible. We don't have any idea what the prize will consist of - a t-shirt for sure. Perhaps we can find a Plaster of Paris bust of Julius Caesar, put a rose in its mouth and decorate it to look like Gertrude Stein. In the mean time we have T-shirts with the our rose prize logo available. Just click on Gerturde's head.
It's not often that we get something as remarkable as a new translation of Homer but that's exactly what we have. The author is a serious academic who tell us that traditional translations don't give the modern reader a sense of the story. This "transduction" is written in a more current idiom. The author tells us, "any explanation is simultaneously easy and difficult to state. Subjectively easy because, in my experience, the Iliad is the most beautiful poem yet danced or sung by woman or man. Objectively difficult for the same reason. The Iliad deals with the disastrous consequences of human emotion as played out on the violent plain of Troy. An emotional core bleeds through and suffuses the martial panorama. Why did I endeavor to mess with the Greek? Originally I was curious about Homer's so-called epithets (among other things), compound and simple adjectives that hug certain nouns, common and proper, such as 'wine-dark' sea or 'white-armed' Here. As soon as I started working my way through the Iliad's Ionic dialect, Homer wouldn't let go. The poem's rhythm and melody interpenetrate in a unique way, ever driving the robust narrative on. It might be said that Hopkins' exquisite syncopated rhythms and Swinburne's ecstatic prolix melodies have influenced my mode of rendition. I do admire and respect certain previous responses, translations, or accounts of the poem, but I love the original, and with any luck, I can evoke such a response with my rendition."
Ellen A. Hunter - THE ILIAD OF HOMER ‐ BOOK I
We have a remarkable lineup of poets, enjoy:
Adam Shechter
Alamgir Hashmi
Cameron Mount
Chris Crittenden
Christine Stark
Christopher Barnes
Constance Stadler
Doug Holder
Ellaraine Lockie
Felino Soriano
George Wallace
Gloria Mindock
Heather Cadenhead
Howie Good
Mark Vogel
Michael Amado
Michael Jerry Tupa
Patrick Carrington
Peycho Kanev
Stephanie Edwards

Reviews
Over the Edge by Suzanne Owens - Review by Barbara Thomas
Streets by Mel King - review by Doug Holder
Behind Our Memories By Michael Hettich - Review by Steve Glines
Zebra Poems by Nadine S. St. Louis - Review by Zvi A. Sesling
Reversals in Love: On the Platform/Sur Le Quai, a one-act play by Denis Emorine, translated by Brian Cole
- Review by Michael Todd Steffen
Looking for Montrose Street by Carol Frith - review by Barbara Bialick


<![endif]>
As we said when we started this is a joint production of Wilderness House Literary Retreat and the "bagel bards". The "Bagel Bards" have just published their third anthology. You may purchase them here:
WHLReview is brought to you by:

A new and exciting travelog:
Louisa Solano: The Grolier Poetry Bookshop
Outpost - A Collection of Poems
Manufacturing America, Poems from the Factory Floor
Eleven Ways to Change the World
Eden Waters Press HOME Anthology
The Man in the Booth in the Midtown Tunnel
They're Dropping Bombs Not Ham Sandwiches