WHLReview
145 Foster Street
Littleton MA 01460
The Wilderness House Literary Review is a publication devoted to excellence in literature and the arts.
The WHLReview is published online quarterly with a best of annual print edition.
Deadlines are as follows
March 1 – Spring
June 1 – Summer
September 1 – Autumn
December 1 – Winter
The annual edition will be published in October.
Editor & Publisher
Poetry Editor
Fiction Editor
Nonfiction Editor
Book Reviews Editor
Arts Editor
Poet in Residence
The Wilderness House Literary Review
is the result of the cooperation of the
and the
Wilderness House Literary Retreat.
Submissions
All submissions must be in electronic form. Our preference is an MS Word file sent as an attachment.
Poetry may be submitted in any length.
Short fiction may be submitted in three formats:
1. very short stories less than 500 words in length
2. short stories less than 1000 words in length
3. Short stories that don't fit the above should be less than 5000 words.
Non-Fiction is just that so lets see some interesting footnotes.
Book Reviews should be positive unless the author is a well-known blowhard. Our mission is to encourage literature not discourage it.
Non-fiction should be short, (a lot) less than 5000 words.
Any form of art may be submitted with the constraint that it must be something that can be published in 2 dimensions. It's hard to publish sculpture but illustrations together with some intelligent prose count.
Published works are welcome with proper attribution.
Please submit all works electronically.
<![if !supportEmptyParas]> <![endif]>
Welcome to the seventh edition (Volume 2, no. 4) of the Wilderness House Literary Review. WHLR is a result of the collaboration between a group of poets and writers who call themselves the Bagel Bards (who have just published their latest anthology) and the Wilderness House Literary Retreat. All of the stories, articles, poems and examples of art have been presented as PDF files, Portable Document Format. This is a format that allows for a much cleaner presentation than would otherwise be available on the web. If you don't have an Adobe Reader (used to read a PDF file) on your computer you can download one from the Adobe website. The files are large and we hope you will be patient when downloading but we think the beauty of the words deserve a beautiful presentation.
<![if !supportEmptyParas]> <![endif]>
Finally, the copyrights are owned by their respective authors whose opinions are theirs alone and do not reflect the opinions of our sponsors or partners. Let us know what you think in our new Letters to the Editor. Enough housekeeping.
We promised a printed version of Volume 1. Check the table of contents for your favorite author. <![if !supportEmptyParas]>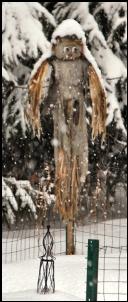 Winter came early this year. If we were editors of the Old Farmers Almanac we would have predicted a hard winter based on the size of the pile of pinecones collected by an enterprising family of gray squirrels in the shed. We almost set a record for snowfall in Boston for December, 30 inches. Of course records like this only go back a hundred or so years so the term "record" is relative. We're not in an ice age but the old timers are questioning "Global Warming." Given the price of heating oil a little global warming would be welcome this time of year.
The good news is that the neighborhood smells delicious with curls of wood fired smoke dancing above each chimney. More people are burning more wood this year and the price of a dry seasoned cord has left many of the local farmers grinning. The local Rotary Club sold over 30 apple and pumpkin pies and a small pallet of fruit cakes at the Holiday Bazaar and the ski mountain down the road opened early but the trail of lost tourists has yet to appear.
It's winter. The excitement of "the holidays" is over and all that's left is to hunker down in our burrows till spring. If hibernation were possible most of us would gladly take advantage of it or better still migrate to warmer climes – perhaps a visit to such warmer places as New York City where the streets are still barren of snow. This year even the Canadian geese have left probably for New Jersey where, with luck, they'll stay.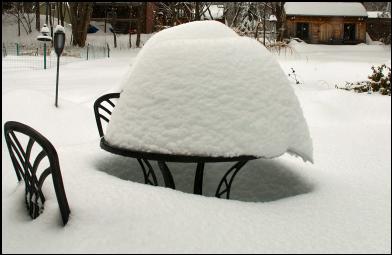 This is the time of year when we can see our neighbors or at least their houses. Only the hardy fools venture out this time of year and we have plenty of them. This little town is known for apple orchards, horse farms, empty factories and the Appleman Triathlon at the end of July. Far to many townspeople have become addicted to competitive exercise. Whenever the roads are clear they run past, turn left at Bumblebee Park and falter halfway into the Littleton Forest. They usually walk back.
To the people of Littleton Massachusetts we humbly offer this poem:
Into the heart of Winter
I shiver and look upon a frozen vista
twisted and tortured
by air so cold life itself stops …
for a moment.
Between death and me is a thin pane of glass.
It divides this sheltered life from the cold.
A cold not so unspeakable that if that pane of glass broke
I could not save myself by walking to a neighbor
but cold enough that if I didn't walk to a neighbor
I would die.
In our winter quarters, suspicious, careful,
sequestered in our chrysalis
we peer out our windows at our neighbors
and hope that they too understand
the tenuous hold we have on life.
- Steve Glines
Art
Art is that which makes a grown man cry unexpectedly when he hears an especially sweet passage of Bach played by a masterful violinist. Our editor, Steve Glines, gives us a glimpse of "out of context" art in Cellphone Art
Essays
Essayists are by nature an eclectic lot. In this issue we have commentary on life in Jersey City New Jersey, The Queen of England on Prince Edward Island, all about meeting the stars of our childhood and on being a black woman writer.
Jersey City: a shocking tale by Elizabeth Glines
Riding The Range Once More by Jim Woods
On being a Black Woman Writer by Mignon Ariel King
How I met the Queen in a Canadian cornfield by Steve Glines
Fiction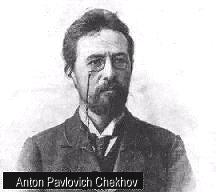 Our fiction editor loves Anton Chekhov and despairs the notion that there are no latter day Chekhov submitting works for her consideration. This is not to say that the work she receives isn't excellent … it's just not Chekhov. To that end WHLReview announces a new prize for fiction to be called "the Chekhov Prize." A google search reveals several other Chekhov prizes with cash. Alas we're not offering cash. We will look for a bearded bobble-head doll.
We are pleased to announce the first recipient of our annual Chekhov prize. We haven't been able to locate a Chekhov bobblehead doll (we're still looking) but we have found a t-shirt with a picture resembling Anton Checkhov so that will have to do.
Our prizewinner is Marc Simon of Waban Massachusetts who's short story "I'm so Pretty" was the best according to our departing fiction editor Julia Carlson.
Speaking of which, we'd like to thank Julia for two years of hard literary labor. WHLR wouldn't have been as good without her. She wants to catch up on her own writing. Tim Gager will be taking over as our fiction editor.
We have lots of fiction this issue. Now when the relatives and in-laws have finally left you'll have something to read.
Hunter Moon – Now it's a murder mystery. Anne Brudevold continues the saga of intrigue and romance in the woods of northern Maine.

Chapters 1-4
Chapters 5-9
Chapters 10-14
Chapters 15-19
Chapters 20-23 new
On the shorter side:
Irina - To Sao Iovleff
Denis Emorine offers us a story of middle age crisis and heartbreak in a story translated from the French by Phillip John Usher
Food: A Fantasy
Murray Elias Denofsky proves that eating disorders can be entertaining.
There is a Light that Never Goes Out
Shannon O'Connor tells of a wayward girl looking for blue plants
Al Dente
Thomas Wauhob tells a story of affairs, physics and the specifics of duck feeding.
False Dawn
Werner A. Low writes of apocalypse in the suburbs
Poetry
Anne Cammon
Bonnie Pignatiello Leer
Carolyn Gregory
Daniel Y Harris
Doug Holder
George Held
Helen R Peterson
Hugh Fox
Lyn Lifshin
Marc Jampole
Orvill Lloyd
R L Swihart
Tolu Ogunlesi
Reviews
Doug Holder reviews a chapbook by our own Julia Carlson:
The Turn of the Century from Cloudkeeper Press
Eleanor Goodman reviews:
Purgatory Chasm
by Susan Edwards Richmond
Adastra Press
Mike Amado reviews two books:
The Sea Never Drowns
by Jason Heroux
Sunnyoutside Press
There is a Light that Never Goes Out
Confessions: Selected and Edited
by Llyn Clauge
Ibbetson Street Press

Richard Wilhelm reviews
POETS AGAINST THE KILLING FIELDS (Anthology)
Trilingual Press
<![endif]>
As we said when we started this is a joint production of Wilderness House Literary Retreat and the "bagel bards". The "Bagel Bards" have just published their second anthology. You may purchase them here: