WHLReview
145 Foster Street
Littleton MA 01460
The Wilderness House Literary Review is a publication devoted to excellence in literature and the arts.
The WHLReview is published online quarterly with a best of annual print edition.
Deadlines are as follows
March 1 – Spring
June 1 – Summer
September 1 – Autumn
December 1 – Winter
The annual edition will be published in October.
Editor & Publisher
Poetry Editor
Fiction Editor
Nonfiction Editor
Book Reviews Editor
Arts Editor
Poet in Residence
The Wilderness House Literary Review
is the result of the cooperation of the
and the
Wilderness House Literary Retreat.
Submissions
All submissions must be in electronic form. Our preference is an MS Word file sent as an attachment.
Poetry may be submitted in any length.
Short fiction may be submitted in three formats:
1. very short stories less than 500 words in length
2. short stories less than 1000 words in length
3. Short stories that don't fit the above should be less than 5000 words.
Non-Fiction is just that so lets see some interesting footnotes.
Book Reviews should be positive unless the author is a well-known blowhard. Our mission is to encourage literature not discourage it.
Non-fiction should be short, (a lot) less than 5000 words.
Any form of art may be submitted with the constraint that it must be something that can be published in 2 dimensions. It's hard to publish sculpture but illustrations together with some intelligent prose count.
Published works are welcome with proper attribution.
Please submit all works electronically.
<![if !supportEmptyParas]> <![endif]>
<![if !supportEmptyParas]> <![endif]>
Welcome to the eleventh issue (Volume 3, no.3) of the Wilderness House Literary Review. WHLR is a result of the collaboration between a group of poets and writers who call themselves the Bagel Bards (who have just published their latest anthology) and the Wilderness House Literary Retreat. All of the stories, articles, poems and examples of art have been presented as PDF files, Portable Document Format. This is a format that allows for a much cleaner presentation than would otherwise be available on the web. If you don't have an Adobe Reader (used to read a PDF file) on your computer you can download one from the Adobe website. The files are large and we hope you will be patient when downloading but we think the beauty of the words deserves a beautiful presentation.
<![if !supportEmptyParas]> <![endif]>
Finally, the copyrights are owned by their respective authors whose opinions are theirs alone and do not reflect the opinions of our sponsors or partners. Let us know what you think in our new Letters to the Editor. Enough housekeeping.
We promised a printed version of Volume 1.
Volume 2 is available HERE. Check the table of contents for your favorite author. We have also nominated some of our authors for the Pushcart Prize. <![if !supportEmptyParas]>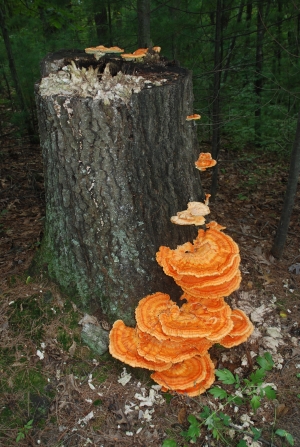 Its autumn in New England which means that the various shades of green that fill the summers in these parts have given way to reds, oranges and yellows. This corner of New England does not benefit from the incandescent reds and oranges found in the rockier more vertical places just north of us in New Hampshire but we do enjoy the newly crisp air, and the harvest of herbs, tomatoes and grapes was bountiful. New England is indeed famous for its autumn colors and rather than show another bucolic photograph of Bumblebee Park (which remains beautiful) we lead off with a magic mystery mushroom found on a stump at the edge of the darkness of the great Littleton Forrest.
While Littleton may be known for its horse farms and apple orchards it's also the home of Andrew Bowers and John Hanson Mitchell whose novel "Indian Summer" we are serializing (see the fiction section). Andrew, a good friend of ours, has the dubious distinction of having written these immortal lines:
"Hmm . . ." thought Abigail as she gazed languidly from the veranda past the bright white patio to the cerulean sea beyond, where dolphins played and seagulls sang, where splashing surf sounded like the tintinnabulation of a thousand tiny bells, where great gray whales bellowed and the sunlight sparkled off the myriad of sequins on the flyfish's bow ties, "time to get my meds checked."
This paragraph earned Andrew the distinction of being the runner-up in the 2008 Bulwer-Lytton Fiction Contest. An international literary parody contest, the competition honors the memory (if not the reputation) of Victorian novelist Edward George Earl Bulwer-Lytton (1803-1873). The goal of the contest is childishly simple: entrants are challenged to submit bad opening sentences to imaginary novels. Although best known for The Last Days of Pompeii (1834), which has been made into a movie three times, originating the expression "the pen is mightier than the sword," and phrases like "the great unwashed" and "the almighty dollar," Bulwer-Lytton opened his novel Paul Clifford (1830) with the immortal words that the "Peanuts" beagle Snoopy plagiarized for years, "It was a dark and stormy night." We think, but are not completely sure, that being the runner-up in the worst opening line contest is far better than being runner-up in a literary version of the Darwin Awards .
The challenge: define the next movement in art!
We continue the tradition of a challenge between this editor and Irene Koronas our Poetry Editor. In our last issue we said: "We have been visiting museums and art galleries and have come to the same conclusion: It's time for a new movement. DADA had its day, MOMA doesn't show anyone new (alive?) and the word "Modern" means any art created before 1930. Even Post-Modern is passé and post-post-modern is art reductio ad absurdum. Perhaps we're getting old, perhaps we've "seen it all" but deep down inside we still believe that art isn't dead, that there is excitement to be found in the visual arts that is both intellectually profound and viscerally stimulating, sexy."
the next movement in art by Irene Koronas
The next movement in art by Steve Glines
Art
After having exhausted ourselves trying to find the next thing in art we return to wanting to just see eye candy, which is what visual art is after all.
Essays
We are of the opinion that all auto-biographies should properly belong in our fiction section but convention dictates that they belong in our essay section. Thus we start off our essays with Charles Campbell's continuing stories of his youth.
The Night I Kissed Susan Hole by Charles F. Campbell
Our own Irene Koronas observes her own life as an artist, life is good.
romantic tipi by Irene Koronas
Writing the biographies of living people, especially those we admire can be difficult:
The Problem of Writing Biographies by Ashley Taylor
Passing the time with Boston Poet Laureate Sam Cornish by Doug Holder .
Finally, after watching the world's economies score perfect tens as they dove into the sewer this editor remembered his academic training as an economist and wrote an essay to help enlighten anyone interested in what happened and what is going to happen.
Roosting Chickens by Steve Glines
Fiction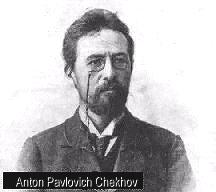 Our fiction editor loves Anton Chekhov and despairs the notion that there are no latter day Chekhovs submitting works for his consideration. This is not to say that the work he receives isn't excellent … it's just not Chekhov. To that end WHLReview announces a new prize for fiction to be called "the Chekhov Prize." A google search reveals several other Chekhov prizes with cash. Alas we're not offering cash. We will look for a bearded bobble-head doll. In the mean time we have T-shirts with the Chekhov Prize logo available. Just click on Chekhov's head.
Our first prizewinner is Marc Simon of Waban Massachusetts who's short story "I'm so Pretty" was arguably the best piece of fiction we published in Volume 2.
To John Hanson Mitchell fans "Ceremonial Time: Fifteen Thousand Years on One Square Mile" is his definitive book. He covers the period from the receding of the glaciers to the historical epoch where "scratch flat" becomes part of our familiar landscape. Mitchell sticks to the facts when he writes about the colonial and native characters that inhabit the last chapters in "Ceremonial Time," but the characters got under his skin and the only way to write about who they really were in a novel, his first.
By the way, John has a new book out about the natural history of Boston , "The Paradise of All These Parts," Beacon Press, Boston 2008. John's vast knowledge of what used to be called "Natural Philosophy" and his gift for anthropomorphic descriptions of inanimate objects brings the City of Boston to life. The reader can almost feel the movements of the tectonic plates right under his feet.
Indian Summer by John Hanson Mitchell
Chapter 1- Indian Summer
Chapter 2 - Totem
We have some incredibly good stories.
The Mural by Denis Emorine (Translated from the French by Phillip John Usher)
Solo by Jessica Keener
Jitterbug, September 9, 1956 by Jim Parks
Lithium by Shannon O'Connor
Poetry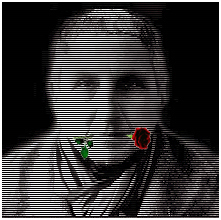 Our poetry editor, not wanting to be outdone by our fiction editor is pleased to announce the Gertrude Stein "rose" prize for creativity in poetry. Anyone published in Volume 3 (and beyond) is eligible. We don't have any idea what the prize will consist of - a t-shirt for sure. Perhaps we can find a Plaster of Paris bust of Julius Caesar, put a rose in its mouth and decorate it to look like Gertrude Stein. In the mean time we have T-shirts with the our rose prize logo available. Just click on Gerturde's head.
One of out good friends Regie O. Gibson, one of Boston 's master performance poets has offered us our first audio recording. We've included a print version so you can read along.
Hell to the Chief by Regie O. Gibson (click on >)

A. D. Winan
Chris Crittenden
Eric Greinke
Howard Good
Howard LeeKilby
Jackie Biederman
John Hildebidle
John Thomas Clark
Kathleen Haskard
Lawrence Kessenich
Lo Galluccio
Lyn Lifshin
Michael Amado
Peycho Kane
Raymond Diandrea
Robert K. Johnson
Shannon O'Connor
Sherry O'Keefe
Susan Tepper


Reviews
Charles P. Ries reviews
BLOOD SOAKED DRESSES By: Gloria Mindock
Lo Galluccio reviews
BREAK TIME, The Carpenter Poets of Jamaica Plain Edited By Joseph Bergin
Michael Todd Steffen reviews
Rare Book Alert: close to flat by Irene Koronas
Pam Rosenblatt reviews
the Ed Galing Propaganda Press Series
Stephan Delbos reviews
Rubber Side Down The Biker Poet Anthology Edited by Joe Gouveia
<![endif]>
As we said when we started this is a joint production of Wilderness House Literary Retreat and the "bagel bards". The "Bagel Bards" have just published their third anthology. You may purchase them here:
WHLReview is brought to you by:

A new and exciting travelog:
Way, Way Off the Road
Louisa Solano: The Grolier Poetry Bookshop
Shadow People
Outpost - A Collection of Poems
self portrait drawn from many
Blood Soaked Dresses
Manufacturing America, Poems from the Factory Floor
Time Leaves
A Careful Scattering
Voices From The Invisible
Eleven Ways to Change the World
Circle Of Crows
Eden Waters Press HOME Anthology