WHLReview
145 Foster Street
Littleton MA 01460
The Wilderness House Literary Review is a publication devoted to excellence in literature and the arts.
The WHLReview is published online quarterly with a best of annual print edition.
Deadlines are as follows
March 1 – Spring
June 1 – Summer
September 1 – Autumn
December 1 – Winter
The annual edition will be published in May.
Editor & Publisher
Poetry Editor
Fiction Editor
Nonfiction Editor
Book Reviews Editor
Arts Editor
Poet in Residence
The Wilderness House Literary Review
is the result of the cooperation of the
and the
Wilderness House Literary Retreat.
Submissions
Poetry may be submitted in any form.
Short fiction may be submitted in three formats:
1. very short stories less than 500 words in length
2. short stories less than 1000 words in length
3. Short stories that don't fit the above should be less than 5000 words.
Non-Fiction is just that so lets see some interesting footnotes.
Book Reviews should be positive unless the author is a well-known blowhard. Our mission is to encourage literature not discourage it.
Non-fiction should be short, (a lot) less than 5000 words.
Any form of art may be submitted with the constraint that it must be something that can be published in 2 dimensions. It's hard to publish sculpture but illustrations together with some intelligent prose count.
Published works are welcome with proper attribution.
Please submit all works electronically.
<![if !supportEmptyParas]> <![endif]>
<![if !supportEmptyParas]> <![endif]>
Welcome to the sixth edition of the Wilderness House Literary Review. WHLR is a result of the collaboration between a group of poets and writers who call themselves the Bagel Bards (who have just published their latest anthology) and the Wilderness House Literary Retreat. All of the stories, articles, poems and examples of art have been presented as PDF files, Portable Document Format. This is a format that allows for a much cleaner presentation than would otherwise be available on the web. If you don't have an Adobe Reader (used to read a PDF file) on your computer you can download one from the Adobe website. The files are large and we hope you will be patient when downloading but we think the beauty of the words deserver a beautiful presentation.
<![if !supportEmptyParas]> <![endif]>
Finally, the copyrights are owned by their respective authors whose opinions are theirs alone and do not reflect the opinions of our sponsors or partners. Let us know what you think in our new Letters to the Editor. Enough housekeeping.
<![if !supportEmptyParas]>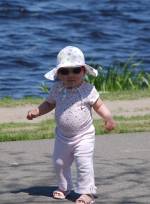 It's early summer in New England. School is out and recreation is the major concern of most schoolchildren. Spring is very short in New England. In the middle two weeks of May we transform ourselves from indoor to outdoor folks, from hermits to sun loving hedonists – at least as much as the New England character will let us become sun loving hedonists.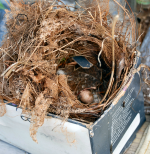 A family of Carolina Wrens was been born in our tool shed and has already left the nest but the hummingbirds and Monarch butterflies have yet to arrive. The chilly weather has delayed their migration or, perhaps, inhibited their passage north this year. Weather in New England is always subject to change just like our politics. Early summer in New England is a time for flee-markets, bar-b-queue and fireworks. We found a flee-market with a booth selling an assortment of gastronomic fireworks. It seemed appropriate for the season.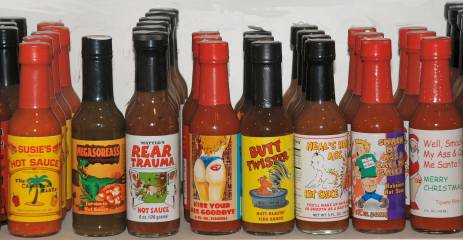 If summer weather has been delayed, the migration of Presidential want-to-be's to New Hampshire has started early. Perhaps it's global warming that's brought this quadrennial migration north so soon. It's always a source of entertainment. Here in Central Massachusetts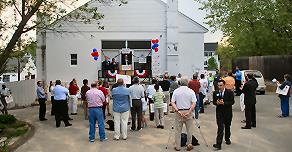 we have our own race for Congress, the first one in a dozen or so years and college kids are barnstorming the neighborhoods for this candidate or that.
Problems and their solutions are never as clear-cut as we'd like them to be but everyone has a staked out position: left right and center. If anyone actually paid attention to issues we could create a chart showing exactly (more or less subject to the usual waffling) where everyone stood on every issue. A is to the right of B but to the left of C and D on issue number one. That way making a selection would be easy just add up the score of each candidate and vote for the one that gets the highest score on your pet issues.
Life in the real world is never as easy as we would like it to be. A scientific study has discovered that getting fat is a natural reaction to stress. Fight or flight and both take energy reserves. The article announced that a slim pill might be possible by regulating the proper stress hormone. Is it just us or did the authors miss the point? America is getting fatter and we think we know why.
Our own personal stress reduction plan (and innovative diet - guaranteed to be a best selling book) involves the arts. Nothing sooths the soul, invigorates the psyche or motivates the muse better than seeing, reading and experiencing the arts.
Art
We start with an exposition on the art of Laurence O. McKinney. Laurie McKinney is a serial entrepreneur. His art is the creation of a continuous flow of brilliant business ideas ranging from selling surfboards in the middle 1960's to a mysterious elixir called Oil of Tara. Laurie McKinney.
Essays
Lloyd Hudson Frye rants a bit about modern life in
There are Men with Guns Coming this Way
Tom Sheehan in Letters to the lost men of the 31 st Infantry Regiment
Fiction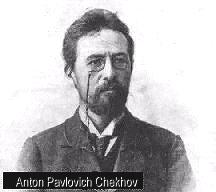 Our fiction editor loves Anton Chekhov and despairs the notion that there are no latter day Chekhov's submitting works for her consideration. This is not to say that the work she receives isn't excellent … it's just not Chekhov. To that end WHLReview announces a new prize for fiction to be called "the Chekhov Prize." A google search reveals several other Chekhov prizes with cash. Alas we're not offering cash. We will look for a bearded bobble-head doll.
Hunter Moon – Now it's a murder mystery. Anne Brudevold continues the saga of intrigue and romance in the woods of northern Maine.
Chapters 10-14 - NEW
G Emil Reutter gives us two short stories:
Tom Sheehan: Knickers
John Hildebidle: IT TOOK HARDLY ANY TIME AT ALL
Jim Woods: THE CIRCUS TENSE
Marc Simon: I'm So Pretty
Susan Tepper: ELVIS OUT OF THE MEDITATION GARDEN
Poetry
Reviews
Hugh Fox reviews Doug Holder's " No One Dies at the Au BonPain"
Daniel Y. Harris reviews Mad Hatters Review #7
Hugh Fox reviews Molly Lynn Watt's Shadow People
Steve Glines reviews John Hanson Mitchell's The Rose Café: Love and War in Corsica
<![if !supportEmptyParas]> <![endif]>
<![if !supportEmptyParas]> <![endif]>
<![if !supportEmptyParas]> <![endif]>
As we said when we started this is a joint production of Wilderness House Literary Retreat and the "bagel bards". The "Bagel Bards" have just published their second anthology. You may purchase them here:
WHLReview is brought to you by:

A new and exciting travelog:
Louisa Solano: The Grolier Poetry Bookshop
Outpost - A Collection of Poems