WHLReview
145 Foster Street
Littleton MA 01460
The Wilderness House Literary Review is a publication devoted to excellence in literature and the arts.
The WHLReview is published online quarterly with a best of annual print edition.
Deadlines are as follows
March 1 – Spring
June 1 – Summer
September 1 – Autumn
December 1 – Winter
The annual edition will be published in October.
To contact an editor simply click on a name below:
Editor & Publisher
Poetry Editor
Fiction Editor
Nonfiction Editor
Book Reviews Editor
Arts Editor
Poet in Residence
The Wilderness House Literary Review
is the result of the cooperation of the
and the
Wilderness House Literary Retreat.
Submissions
All submissions must be in electronic form. Our preference is an MS Word file sent as an attachment. We don't pay so you retain all copyrights.
Poetry may be submitted in any length.
Short fiction may be submitted in three formats:
1. very short stories less than 500 words in length
2. short stories less than 1000 words in length
3. Short stories that don't fit the above should be less than 5000 words.
We also accept longer forms of fiction occasionally.
Non-Fiction is just that so lets see some interesting footnotes.
Book Reviews should be positive unless the author is a well-known blowhard. Our mission is to encourage literature not discourage it.
Non-fiction should be short, (a lot) less than 5000 words.
Any form of art may be submitted with the constraint that it must be something that can be published in 2 dimensions. It's hard to publish sculpture but illustrations together with some intelligent prose count.
Published works are welcome with proper attribution.
Please submit all works electronically.
<![if !supportEmptyParas]> <![endif]>
<![if !supportEmptyParas]> <![endif]>
Welcome to the fifteenth issue (Volume4, no3) of the Wilderness House Literary Review. WHLR is a result of the collaboration between a group of poets and writers who call themselves the Bagel Bards (who have just published their latest anthology) and the Wilderness House Literary Retreat. All of the stories, articles, poems and examples of art have been presented as PDF files, Portable Document Format. This is a format that allows for a much cleaner presentation than would otherwise be available on the web. If you don't have an Adobe Reader (used to read a PDF file) on your computer you can download one from the Adobe website. The files are large and we hope you will be patient when downloading but we think the beauty of the words deserves a beautiful presentation. Find us on Facebook or join our mailing list HERE.
<![if !supportEmptyParas]> <![endif]>
Finally, the copyrights are owned by their respective authors whose opinions are theirs alone and do not reflect the opinions of our sponsors or partners. Let us know what you think in our new Letters to the Editor. Enough housekeeping.
Table of Contents
Opine
We've "made it." Someone, not us, has created a page for us in Wikipedia and listed us under American Literary Magazines. We are honored.
We have changed, for the better we hope, our formatting of our stories. Please let us know what you think.
Another year another anthology. It's taken us a bit longer to get our "best of" paperback out than in previous years but then it's been a year of chaos. We have lost friends and jobs and uncertainty has been the rule. We are finally thrilled to announce the publication of "The Best of Wilderness House Literary Review Volume 3."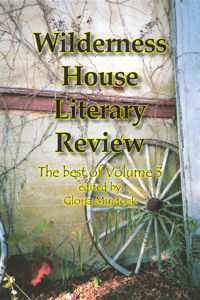 A table of contents is available here. Order it here.
You'll note that our "best of" anthology is published by our new imprint, Wilderness House Press.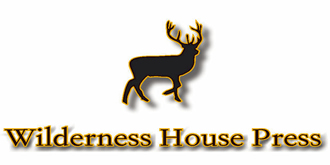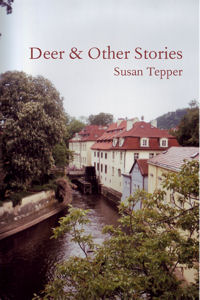 We are also pleased to announce that Susan Tepper's new book "Deer and other Stories" has also been released by Wilderness House Press. Order it here.
Our own Fiction Editor, Timothy Gager said:
"Susan Tepper is a solid writer who takes you places you've been to, imagined but yet have never placed yourself. Many authors can write and set up plots but Tepper does so in original ways it is as if you are driving on the grass next to a highway that everyone else is navigating. This is a book about the subtle relationships of people and their world---literary snapshots you flip through and read from beginning to end. Like many successful books of short fiction there is a tying thread through these stories and it is a joy to anticipate and look for it during the reading of Tepper's Deer."
She's even received a short mention in Newsday on Long Island, New York, one of America's largest newspapers.
Search the house
Art
This editor's first encounter with the art world occurred when he accompanied his journalist mother to an art show that she had been asked to review. Being a professional journalist and not a professional art critic she grilled the artist whose works were proudly displayed on the meaning, merit and methods of the art until the poor soul fled the room in momentary madness. With a "humph" she shook her head and said, "I just don't understand modern art." To prove that modern art was a fraud she once entered a "sculpture" in a juried art show consisting of several hundred square pieces of multicolored plastic sponge, dipped in glue and randomly thrown onto a four foot by four foot piece of plywood. The piece was titled "Hallelujah in the Negev." It won first place in its category. She declined assignments that involved art after that.
This editor does not shrink from commenting on art: I had heard of Michael Costello so when Bridget Galway, our new arts editor, asked me to accompany her to Michael's studio I was excited. Michael was warm and welcoming and before long Michael and Bridget chatting away about old times while I enjoyed photographing his studio: Of Muppets and Monsters.
Essays
In our last issue we tried an experiment in online publishing with this editors travelogue, "Seven Days in Fiji." Over 6,000 of you have read it so we'll leave it up for this issue. Look for others in the future. Seven Days in Fiji. You can also purchase a paperback version here.
We mentioned a bit earlier that this editor's mother was a journalist who did not appreciate modern art although she loved the act of creativity. After moving to Nova Scotia she went on to earn her Master Chief's license but before she did she proposed a column on country cooking to Gourmet magazine. What was she thinking?
C.S. Glines - North Country Saga
Most good writers have been rejected multiple times. So to continue this theme we have
Richard Moore - MY EARLY CAREER AS A POET: How i blew it at THE NEW YORKER
Aida Zilelian - The Cold War
Anne Ipsen - Anne Schneider
Doug Holder - Zvi Sesling: Poet, Publisher And Mensch
Frances Metzman - My Inheritance
Don MacLaren - The Popular Kids
Kristen Lodge - Searching for Rocks
Laudizen King - Remembering the Dugout and Larry Lisciotti
Mary Rice - Give Peace a Chance
Natasha Lvovich - Vermont, "Portus Eunostos"
Richard Collins - A Biologist Ruminates on Hiking, Science, and Nuclear Threats
Yaron Goldman - ERR MAIL
Finally, we will be publishing a novel by Sonia Meyer next summer and portions of it in our winter and spring editions. Sonia is so interesting we not only have published her story on the new pogroms against the Gypsies but also her biography.
Sonia Meyer - Pogroms Erupting Across The New Europe
Sonia Meyer - The Five Stages Life ... So Far
Fiction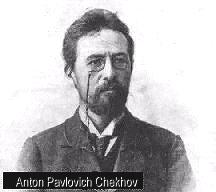 Our fiction editor loves Anton Chekhov and despairs the notion that there are no latter day Chekhovs submitting works for his consideration. This is not to say that the work he receives isn't excellent … it's just not Chekhov. To that end WHLReview announces a new prize for fiction to be called "the Chekhov Prize." A google search reveals several other Chekhov prizes with cash. Alas we're not offering cash. We will look for a bearded bobble-head doll. In the mean time we have T-shirts with the Chekhov Prize logo available. Just click on Chekhov's head.
For your reading pleasure we offer:
Jennifer Barton - Home Health
Joanna Beth Tweedy - The Rambler
Jon Boilard - Wrong Things
Laurel Jenkins-Crowe - Spooks
Mandy Mikulencak - Independence Day
Melanie Haney - On Third Street
Natasha Cabot - Ragdoll
Rachel Yoder - Fun In Recovery
Rita Buckley - The Reconciliation
Robin Billings - Playing Pretend
Roxanne carter - HERE WAS THIS GLAMOROUS FREAK
Tanya Perkins - The Nature of Breakage
Poetry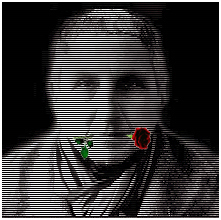 Our poetry editor, not wanting to be outdone by our fiction editor is pleased to announce the Gertrude Stein "rose" prize for creativity in poetry. Anyone published in Volume 3 (and beyond) is eligible. We don't have any idea what the prize will consist of - a t-shirt for sure. Perhaps we can find a Plaster of Paris bust of Julius Caesar, put a rose in its mouth and decorate it to look like Gertrude Stein. In the mean time we have T-shirts with the our rose prize logo available. Just click on Gerturde's head.
We have a remarkable lineup of poets, enjoy:

Alexandra Isacson
Aristotle Sinclair
Barbara Bialick
Carl Palmer
Chad Parenteau
Diana Der-Hovanessian
Diane Sahms-Guarnieri
Elisha Reyes
Eric Adamson
Eric Blanchard
George Held
Hiram Larew
Holly Day
Irene Koronas
J. M. Wilcox
Judy Huddleston
Julia Carlson
Kara Breithaupt
Lisa DKaufman
Lori Powell
Lylanne Musselman
Lynn Lifshin
Mark DeCarteret
Mary Buchinger
Mike Amado
Mike Berger
Peter Magliocco
Reza Tokaloo
Rick Marlatt
Robert Wexelblatt
Ryan Quinn Flanagan
Shannon O'Connor
S. M. Gillespie
Timothy Gibbs
William Doreski
Wynn Everett

Reviews
DEEP LANDSCAPE TURNING
by Ann Hutt Browning,
Ibbetson Street Press (Somerville, MA), 2009
($14.95)
Review by Barbara Bialick
The Future That Brought Her Here:A Memoir Of A Call To Awaken.
By Deborah DeNicola.
© 2009; 360 pp; Ibis Press
Nicolas-Hays, Inc.
POB 540206
Lake Worth, Florida 33454-0206
$16.95.
Review by Hugh Fox
And the Monster Is -- ?
A Monster's Notes by Laurie Sheck.
(Knopf. 530 pages; $30)
review by Mary Rice
Steerage
by Bert Stern
Ibbetson Street Press
http://ibbetsonpress.com
$15
Review by Miriam Levine
Deer & Other Stories
By Susan Tepper
Wilderness House Press, price $16.95
Reviewed by Paul Steven Stone
Seven Days in Fiji (Travelers Edition)
An eye opening account of a trip to Fiji
just before Christmas 2005.
by Steve Glines
With Black & White illustrations.
ISBN 978-1-4116-8649-6
With full color illustrations.
ISBN 978-1-4116-7434-9
Review by Susan Tepper

Come back often. We post up to ten new reviews every week.

As we said when we started this is a joint production of Wilderness House Literary Retreat and the "bagel bards". The "Bagel Bards" have just published their fourth anthology. You may purchase them here:
WHLReview is brought to you by:

An exciting travelog:
Louisa Solano: The Grolier Poetry Bookshop
Outpost - A Collection of Poems
Manufacturing America, Poems from the Factory Floor
Eleven Ways to Change the World
Eden Waters Press HOME Anthology
The Man in the Booth in the Midtown Tunnel
They're Dropping Bombs Not Ham Sandwiches